FemPyre was founded in 2017 to bring a new concept to North Texas' performing arts scene — an all-female troupe of movement artists producing hypnotic acts featuring fire and LED props. The organization, which has hit stages all over the region, is helmed by Brianna Apsara, Jo England, and Jai Lynn Sovereign.
Besides stage shows throughout Texas and beyond, FemPyre also hosts regular skill shares that serve to provide a safe, family-friendly learning environment for women interested in fire and flow arts.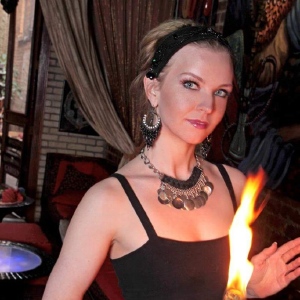 Performance and Dance Director, Flame Effects Operator
Brianna Apsara has years of training in belly dance from some of the most respected teachers in the nation that she draws upon to develop the stunning choreography for FemPyre.
Marketing and PR Director
Jo England is a professional journalist by day and a fire performer by night. She's been playing with fire since 2015, and her specialty is a daring double fire hoop act that is sure to please a crowd.
Jai Lynn Sovereign
Artistic Director
Jai Lynn Sovereign's deep theater production background brings to life the artistic vision for FemPyre. From cutting-edge costume concepts to new prop development, Jai Lynn ensures that FemPyre's aesthetic is on point.